Disaster Recovery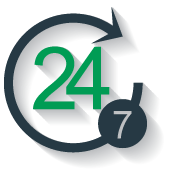 We all live in a hurricane zone. They are just one of many natural and man made disasters that impact businesses each year. Just ask the 1.5 million businesses* that suffered through Sandy in 2012. Statistics say at least 25% of small businesses will not reopen after a disaster**. Despite these facts, most company leadership believes that their day's work is being saved (somehow & somewhere) and they are safe. Besides, a disaster will never happen to them.
The reality is many small to mid-size companies do have a basic backup plan – but no real strategy for the actual Data/Disaster Recovery part of the equation (the part that actually gets your company up and running again). Even more alarming, none of these processes have ever been tested to see if they will actually work when needed. Want to sleep better at night even if you know that Hurricane Chuck is churning somewhere in the Atlantic? Then read on….
System Audit – we provide a complete audit of your current backup hardware, software, process and procedure to verify that your business is actually prepared to recover when disaster strikes. If your organization presently has nothing in place, please reach out for us immediately for effective and fast solutions.
Recovery Testing – it is not good enough to just to know that your data is stored safely somewhere, you need to witness it is accessible when needed to restore your entire operation.
Daily Monitoring – your disaster recovery tools can't take a day off, and neither do we. Our prevention tools monitor the system 24×7 and verify it is ready. To accomplish all this and more, we have partnered with one of the most capable names in data storage & recovery and will routinely audit and test to make sure that your organization will be up and running after disaster.
---
---
*D&B web site "After Hurricane Sandy"
**SBA Web site "Disaster Planning"